Step 1. Automate Keyword Research; Step 2.Gain 10,000 New Leads; Step 3: Profit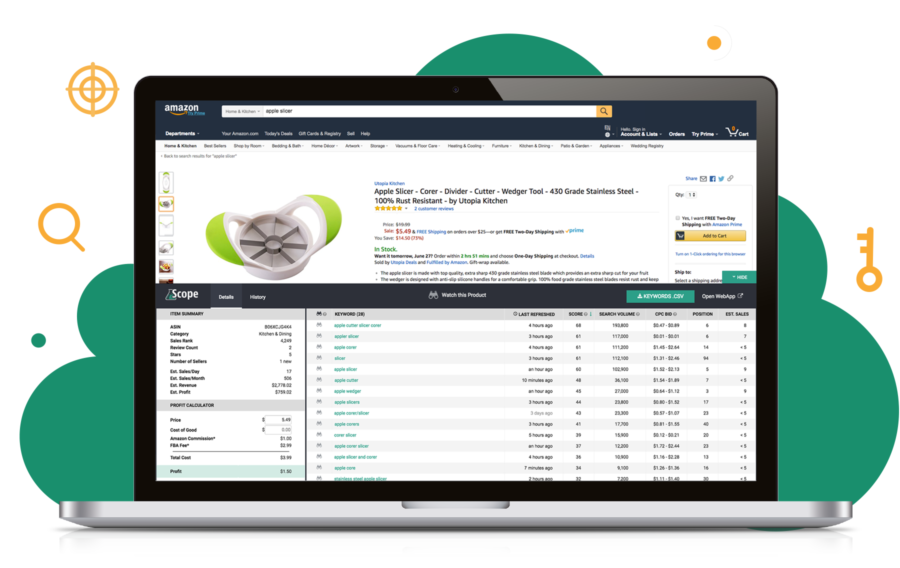 The Problem
Optimizing Amazon listings requires hours of tedious research and calculations to find the best keywords. To solve this problem, Seller Labs was looking to launch Scope: it's innovative market research and keyword optimization tool. They saw an opportunity to help sellers do a better job at optimizing their listings.
The market for Amazon Seller tools is cutthroat, so they knew it wouldn't be easy. However, previous successes launching messaging software and deal sites proved it was possible.
The Solution
I worked with Seller Labs to develop the initial version of the Scope Chrome Extension. The extension enables sellers to collect valuable data while browsing Amazon.com. Clicking 'Export CSV' replaced tedious hours copying into a spreadsheet. The extension had two modes of operation: free, which focused on automating the collection of data, and paid, which augmented keyword profitability data generated by Seller Labs' proprietary algorithms.
The Results
The Scope free extension has generated over 10,000 leads. Combined with calls to action and marketing automation built to convert these uses, The Scope extension has become one of the most profitable marketing assets in the Seller Labs repertoire. If you'd like to try it out for yourself, here's a link: Simplify keyword research with Scope.